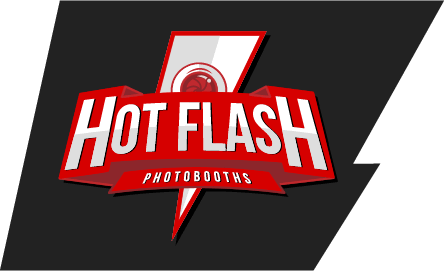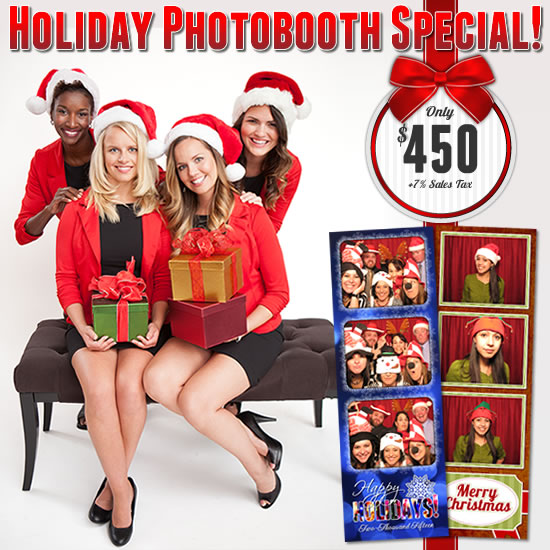 Happy Holidays!
If you are in charge of this year's holiday "get-together" for your company, fraternity, sorority, social club, church group or family, we have an affordable photo booth rental package that is perfect for you! Our photo booth will add a fun and festive element to your party, and leave your guests with holiday memories that they can take home right in their pockets.
Features?
Our Holiday Photobooth Special includes a three-hour rental period, complete with Christmas and winter-themed props, and a variety of holiday-inspired photostrip designs. Every Hot Flash Photobooth rental also includes customization of the photostrip message, and a password-protected online photo-gallery. Of course, additional hours are available.
Add Ons
Need a little help with the holiday decorating? We've got you covered! Check out our special lighting options below!
This promotional package includes a full three hours of open-booth time, during which your guests are welcome to unlimited photo-sessions. Each session will produce two 2″ x 6″ (two inch by six inch) photostrips. The photostrips print out within seconds, and are ready to be handled immediately.
Even if your event runs longer than the chosen rental time, you need not worry about us disrupting the flow of your party with equipment setup. We will have your booth on site, and ready to go before your guests arrive, and we will break down and retrieve the booth after the conclusion of the event.
Well, what would a photobooth be without some cool props? We have a variety of Christmas and winter-themed hats, glasses, neck-wear and more. All of the props that we supply are meant to last, and look great for more than just one night.
Outgoing, personable, and always appropriately dressed, our friendly and fabulous attendants will make sure that you and your guests get the very best photo booth experience possible.
They will instruct your guests on how to operate the booth, and get the best possible photos. They will keep the booth area organized, and ensure that everything runs smoothly throughout your event.
We take pride in having the cleanest and classiest photostrip graphics in the photobooth industry. Every design that we offer is created right here at Hot Flash Photobooths, and can be found nowhere else.
Additionally, we customize each and every photostrip for our clients, and are willing to work with you to come up with a creative and attractive design that you will love!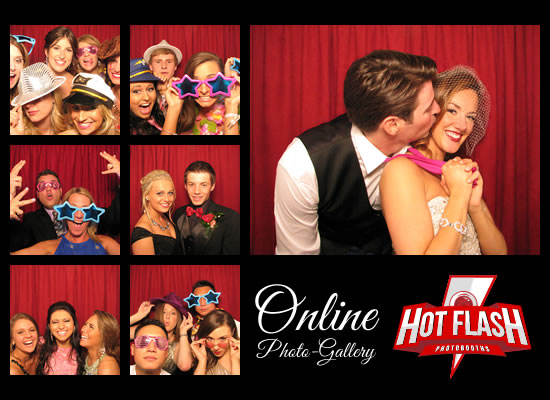 Each one of our photo booth rentals comes with a password-protected online photo-gallery. The gallery will contain every photo taken in our booth during your event, at full resolution.
Your guests are welcome to login and enjoy all of the fantastic pics, and they are free to download, share to social media, or even print their favorite photos at no charge!
**Availability: Sale pricing available now through January 30th, 2017. Excludes December 24, 25 & 31. (Updated 10/31/16)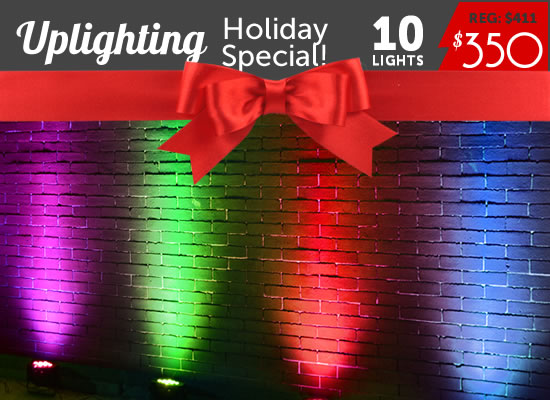 Uplighting
Add uplighting to your photo booth rental at a Special Price!
uplighting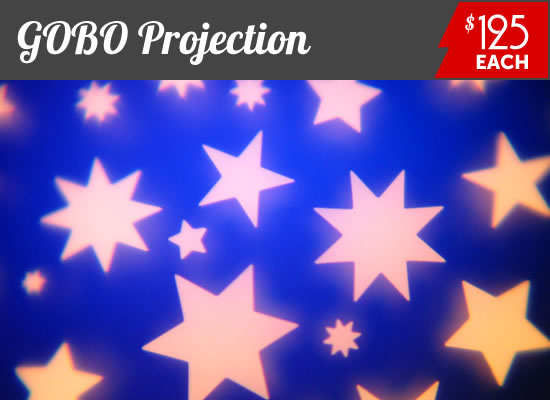 GOBO Projection
Project stars, snowflakes, breakup patterns or stock message GOBOs.
monogram
Custom GOBO Projection
Add a great customized GOBO projection to brand your one-of-a-kind event! monogram
Tell us a little bit about yourself, and your event, and we will get right back to you to reserve a photo booth for your holiday event.
In the "notes" section, please include relevant details such as: event location/venue, start & end times, and event name or occasion.
We look forward to speaking with you soon!
Address:
130 S. 18th Street Pittsburgh, PA 15203
Phone:
(412) 481-5852