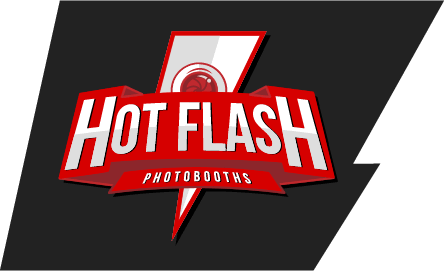 Congratulations on your engagement…
…and thank you for your interest in our photobooths! We have a booth available for you, and we are excited at the opportunity to be a part of your special day.
We believe that we have the the absolute best product, and value in the Pittsburgh photobooth market today.
Here are a few reasons why:
Never blurry, flat, or washed-out; our sharp, well-lit photos have a signature warmth that POPS! The classic deep-red backdrop gives our pics a luxurious, vintage look, and provides great contrast with clothing and skin tones of all type.
We never rely on stock photostrip templates, or the work of amateur designers. All of our exclusive designs are painstakingly created in-house by an experienced graphic artist. You will not find cleaner, more detailed designs anywhere, and we take the time to personalize EVERY client's photostrip art.
Our fabulous Hot Flash Photobooth Attendants are the face of our company. Always dressed to impress, and ready with a smile, you can count on them to treat your guests as their own, and deliver the best photobooth experience possible. We receive compliments week after week about our personnel, and we could not be more proud of our team.
Using only professional-quality components, we have spared no expense in building the most reliable, functional, and attractive booths in Pittsburgh. Fully automated by special software, a simple push of a button initiates the photo sequence. The high-resolution Canon camera captures sharp, clear images regardless of how animated your guests are. The industry-leading DNP dye-sub printer produces outstanding prints that are dry to the touch immediately. The durable photo prints should last a lifetime when cared for properly.
Oh, did we mention that our booth actually PRINTS photos? Hard to believe, but some "photobooth" companies are actually booking booths that don't print anything. They give you a digital copy, and advise you to print them on your own! Take this into consideration when pricing photobooth rentals.
Consistent five-star reviews on popular bridal websites has made us perennial award-winners in the photobooth business. These awards are a nice little pat on the back, and certainly a great marketing tool, but the accolades that mean the most to us are the words that come directly from our satisfied clients:
I contacted [Hot Flash] about their photobooth about a year in advance. From the very beginning, the owner, Matt, was awesome. He worked with us and gave us exactly what we were looking for, with stellar service along the way. Everything that was provided to us by this company was great – the set up, the scrapbook, the online gallery. Additionally, I cannot speak highly enough about our photobooth attendant. She was awesome – she was professional, personable, and organized. What I also liked about this company was the TYPE of photobooth that they have. You can fit a decent amount of people in the free-standing booth, which makes it a lot of fun. The backdrop looked nice in the pictures, and the quality of the prints were some of the better photobooth pictures I have seen. We enjoyed working with this company and we would not hesitate to recommend their services to anyone in the area who is looking – as their price for the quality cannot be beat.
Aly Schafer – 10/2015
We are 100% locally owned and operated – not a franchised operation from another city. Want to talk to the owner? How about stopping by our South Side Studio to meet with him? When you book a booth with Hot Flash Photobooths, you can be assured that you've hired the best, and will have the satisfaction of supporting a true local business.
Ok, we could go on all day…
…but you just want to know how much all this fine quality and personal service is going to cost, don't you? Pricing is below, for your selected date.
We also offer…
…some popular lighting options that can be added to your photobooth rental. Of course, those services maintain our same trademark quality and level of personalization.
Pricing & Availability


Prices quoted above are for your requested date. These prices are guaranteed only for this date, and for no longer than 7 days from your inquiry. Pricing and availability is subject to change at any time.

Sales Tax
All photobooth rentals are subject to 7% PA & Allegheny County sales tax. This tax is not included in the quoted package price.

Travel Fee
A travel fee will be added to the cost of rentals for events requiring a driving distance of 25 miles or more. The fee is calculated as $1/mile, round trip. The chosen travel route will be decided at the discretion of Hot Flash Photobooths management.
Looking for that special gift…


…that stands out from the rest? Long after the housewares and cash gifts are gone and forgotten, the fun memories created and captured in our photobooth will live on.

Want to share the cost of a photobooth rental among several friends, or with the bride & groom? We have gift certificates for your convenience!

Brides… add us to your gift registry!